Leadership Presence via Experiential eLearning: The Executive Presence Training – now as an online leadership course!
 – What is it?  A whole new online leadership course method. For The Executive Presence Training and many of our other Management Trainings.
The very same award-winning Executive Presence Training tools that are top-rated by leaders from Google, Facebook, more – but delivered through Experiential eLearning.  Affordable – and scalable.  Learn More.
Your leaders: 
Connect with fellow learners taking the same course for real-time practice.
Will get personalized, human feedback (not computer bot feedback) on their performance.
Apply

the lessons

to

real work situations, bringing instant ROI to your organization.
WHY this new Experiential eLearning method?
Traditional eLearning is Dehumanizing. Flat. Impersonal. Disengaging. 
It results in poor retention, trivial learning outcomes – and negligible behavior change, wasting your corporate training dollars. 
People deserve more.
Companies demand more.
Society needs more.
We are here to fix it.
Find out more about this unique online leadership course and corporate online training.
From the leaders of Cream of the Crop Leaders – experts in curriculum development.
Experiential eLearning:  Learn, Practice, Apply — Patented. Revolutionary. 
Designed to transfer the very same transformational learning methods we use in our top-rated onsite Executive Presence Trainings to a BRAND NEW eLearning format.
2+ months executive education experience of The Executive Presence Training course material
LEARN – PRACTICE – APPLY to real situations within your organization
Team Cohort (private for your organization)
Here's how it goes:
Each employee learns the top-rated Executive Presence tools via our personal, exciting videos – similar to a private coaching session with our Cream of the Crop Leaders' transformational leadership course designer and Founder, Sioux Messinger
Then, your leaders practice the tools together – using our instructional rubric.
Then, each applies these tools to real workplace situations within your organization for HUGE, INSTANT ROI.
Minimum, Maximum:  No minimum or maximum amount of licenses.
Note: The Experiential eLearning version of The Executive Presence Training can be used as a skill reinforcement program (for former participants) or as a first-time introduction to students unfamiliar with our leadership presence course.
With this revolutionary Experiential eLearning platform, you can expect a truly effective online leadership course:
Digital Learning that is Team Building and Interactive
Personal, Individualized Feedback 
Results-Driven online leadership course content and Engagement
Participants apply online leadership course learnings to Relevant and Real Work Situations
Don't waste your training budget on online leadership courses that don't create meaningful change. Put your training investment into a research-backed, eLearning experience that will inspire and transform your team.
Let's talk. There's no risk to reach out to us now.  We're friendly people with decades of experience developing teams – and we want to inspire your success story. 
A new cohort of our online leadership course will begin soon. Get on the wait list early.  
Take the leap and contact us.  
Our research-based approach focuses on effective and transformational learning experience methods.
Get in early.
Participant Testimonials from the Onsite EP Training
"This was hands down the best workshop I have ever been to!"

"This was a terrific workshop."

 "Excellent and transformational.  Presence is hard to define - until you feel it."

 "Amazing. The tools completely changed my outlook on life."

"Extremely powerful. Created a paradigm shift within myself."

"This was an amazing experience...life changing. What I learned will help me so much, professionally and personally."

"This was an amazing experience...life changing."

 "Lots of great material, well delivered, brought to a powerful crescendo."

"I can now take command of a room better than professionals with far more experience in my field."

"Amazing!  Great exercises.  No improvement possible."

"I cannot imagine a better program to help you grow in such a short time. Great work!!! 5 star."

"Participating in Cream of the Crop Leaders was a Seminal Moment in my life!"

"Bravo!!!  Well worth my time. Sorry I didn't know about the 3 day session."

 "I loved it!  Great opportunity.  Great experience."

"In 40 years, The Executive Presence Training is one of the top two courses I ever took."

Executive & Business Coach

Will have a lasting positive impact on my life.

I wish I had this training 20 years ago. I learned so much about what I could do to improve how my message is received.

I will take this with me for the rest of my journey!

Thrilling and engaging, it was a great 2-day seminar/workshop...that I will gladly ride again and again. I learned so much about myself and even faced one of my biggest fears.  Bravo! 

I gained so much confidence – and gained a level of connectedness with and respect for my coworkers. Watching my teammates gain the same confidence was incredible.

 "Cream of the Crop Leaders enabled me to be perceived as more believable."

A very powerful experience!  I am eager to put all of these things into practice.

This experience was life changing. My power is beautiful.

This experience changed me and how I show up in the best way possible. I received so much loving support from Sioux and my fellow leaders.

I cannot believe how transformed I feel after only two days. Opportunities to learn and find my personal 'power' were amazing.

The skills we learned will make us all better leaders and influencers.

An amazing and eye-opening experience with my team. I highly recommend this training to any organization looking to invest in their people.

Amazing as well as very practical.

I really can't put into words how I feel about the genesis you helped us realize. Amazing.

Was a great learning tool to see yourself in the eyes of your peers without judgment.

I love the real-world use!  Great experience!

An amazing experience.  I leave with a fresh inspiration of power and confidence. Thank you!

I expected the learning. Making new friends was an amazing bonus. I hope to cross paths with the facilitator in the future; generous and inspiring.

At first I thought 'mumbo-jumbo'…but by the end, Wow!  Amazing.

Will help me overcome challenges I face as an introvert.

Saw my co-workers in new and profound ways that forged a real connection.  Helped me examine myself, the kind of career I want to have, and the person I want to become in a way that I hadn't before.

This was so valuable for me – I learned so much about myself that I can use in my personal and professional life.  You both had such a great manner about you and guided us so well.

I didn't know I could grow so much in two days. I have a new outlook on work and a new outlook on building relationships with all of those in my life.

I loved it!  I learned much about myself.

Easily the most rewarding and effective professional training I have ever experienced.

This is by far the best leadership training I have been through. I saw a huge improvement!!  Would recommend to any company who wants to build leaders.

You didn't have my buy-in at the start, but you've got it now. The experience was unique, wonderful, uncomfortable and enlightening. The most uncomfortable parts were the most effective ones.

I have learned so much about myself, about things I never even realized I did. The things I learned will stick with me for the rest of my life. I highly recommend this class.

Focuses on the best parts of a person and letting them shine.

'Real world' resources and tools.  This is the best developmental training I've ever attended!

An excellent use of my time. The exercises all had purpose and build on each other

I learned far more in this workshop than I have in any other I've participated in.  Sioux is wise and engaging…her experience is evident through her teaching.

I learned so many techniques that will be helpful personally and professionally.

I feel empowered. I can be powerful and peaceful at the same time.  I can be powerful and still empower others. This is what you've given me.

Far beyond typical trainings. Truly a transformational experience.

This was transformational for me, a person who [already] feels confident and well put together.

Very powerful and meaningful. The best leadership training I've experienced.

A powerful way to be a better version of myself with others.

Totally impactful and relevant. Time well spent!

Thank you so much!  It really brought something out of me I didn't know existed.

Great class. Brought something out me that I didn't know existed. Thank you so much!

This was a transformational experience for me.

This was an amazing experience.  The course was easy to follow, and the instruction was energetic and relatable.

"Executive Presence doesn't even begin to cover what I learned in this course. The way I think, feel, and prepare have completed changed."

I wish I had this earlier in my career!  Sioux is a great coach!

It was awesome!  Time well spent together.

Outstanding tools. Great.

I met eleven people 36 hours ago who are now my friends. So glad I attended.

I've heard many good things about this workshop before I joined it, so my expectations were high. However, it still blew me away by a mile after. 

I cannot wait to put this into practice.

Intensive, fast paced but effective learning process. It's both practical and insightful.

Truly impactful and very inspirational. Sioux really brings it home and teaches in a way I've never experienced.

I was able to get direct and honest feedback with how I present myself. This was invaluable and gave me great insights into how others perceive me.

Taught me that I have power and that it's okay to display this power.

I was brought out of my comfort zone in an uplifting and dignified manner.

Life changing. Revolutionary. So many personal revelations. I see my power now and I claimed it. There's no stopping me now.

Coming into this session I was so nervous, but the way you build the material helps so much. I felt a serious breakthrough personally and I owe it to the both of you for the platform to do that.

I have used the tools since the session and they work!

I'm often skeptical of 'self-help' and 'leadership training' courses so I didn't know what to expect, but I have to say this class was well worth the time and I'm glad I signed up!!

This program is going to be a game changer for my life.

I came in questioning and I left with answers. I leave with power and the knowledge and skills to summon it.

"Helped me to slow down, build professional credibility, and connect with others in a way that is more likely to build trust." - J.C.

A completely eye opening and invigorating experience.

I loved it!!  Absolutely amazing. I would love to do it again. I learned so much about myself and my coworkers.  I will keep this with me for the rest of my life!

"Brilliant style of training. Unconventional and very, very effective. Didn't lose interest for even one minute."

Thank you so much for making it safe for me to go way outside of my comfort zone. Your direct feedback showed caring and insight that will stay with me for the remainder of my life.

I feel very confident, equipped and powerful.

The tools will have a direct impact on my personal and professional lives.

Incredibly insightful and on point.

Fantastic. Came away with an incredible set of tools.

"Great Program!  I could go on and on about how positively I feel about this program and its impact on me. Thank you!"

"Great Program! I could go on and on about this program's impact on me!"

"Simply exhilarating. Transformed who I am as a professional and as a person."

Loved the experience.  Helped build team rapport.  Pushed us to be better and drove us to think.

Amazing.  Transformational.  Revealing.  Enlightening.  Soulful.

At first I didn't know what to expect. I thought that the focus would be on dealing with other people in a shallow sort of way. I was very pleased when I realized that the focus was genuine, fundamental, and personal.

I broke through the wall that I built to protect myself and am now truly free to reach my potential. Thank you for being such wonderful guides.

A safe, inviting space. Very authentic, caring and powerful.

"Transformative. The only leadership workshop I've ever found truly useful and profound in moving me to the next level of leadership."

I learned so much from your insights and saw my colleagues grow in their power right before me.  I have taken away so many learnings.

Life-changing. Accomplished what I've been trying to break through for 35 years.

It is the best training I have undergone thus far.  I have been in numerous trainings throughout my career.  I have never experienced a more transformational time, ever.  The tools will stick with me and make me a better and more successful person.

These tools are invaluable. THANK YOU!

I was told that I would never be promoted to VP because I lacked executive presence. I had no clear idea of what they meant or how to get it. I now have the tools.

Your influence has had a profound impact on my whole life.  I'm so moved I can't even write.

"One of the most fantastic learning experiences I have ever had. Simple and effective tools."

I feel freed and powerful.

I now own my power and can use it for good!

By far one of the best trainings I have ever participated in. It provided me an opportunity to grow and learn in a safe environment.

This course should be mandatory for anybody who wants to lead in any way.

Wow!  Such a fresh, unexpected, new experience. This course brought a great sense of self-awareness, confidence - and a new respect for my colleagues.

Loved it!  Thank you for helping me find me!

I have learned more tools than I ever thought possible!  The abilities of the leaders to break things down step by step was second to none!

This is the most beneficial class I have ever been in. Thank you!

This was an incredible experience and I got so much more out of this than I expected.

Incredibly insightful, powerful and meaningful!

I was skeptical coming into this training but after experiencing the difference and your sincere involvement, you have blown my expectations. I truly thank you for helping me on this journey.

So many tools that can help me become a more effective leader. Thank you!

Amazing.  I feel more confident, worthy and that I matter. What I needed. Thank you!

I learned an immense amount about how to present myself as well as how to approach others.

This is the best course I've ever taken.

I learned how it feels to stop being timid and step up to my own power. This will help me in all aspects of my life.

It was a life-changing experience. It's critical that I show up and exude confidence. This experience has given me the tools.

More than what I was expecting. Did not realize it would be this transformational!  And so easy!!  And Rewarding!!

Amazing session. The best I have been to.

Excellent Transformational session. I have seen myself change over the course of two days.

I loved this class. The tools provided will serve me well in every aspect of life.

Awesome!!  Time well spent!!  I have to be honest. I wasn't looking forward to time away from the office. However, you made this such a great experience for me.

It was amazing!  I want others to experience this!  I learned a ton about myself.

Excellent!  Excellent!  Excellent!  This training definitely develops leaders.  An environment where people want to see you succeed.  An environment that allows you to recognize your nervousness and fear - then walk straight through them.

I can truly say that I got more out of this workshop than any other in my 25-year career.

Seriously amazing. I can't thank you enough.

This was an amazing growth experience – both professionally and personally.

Powerful, engaging and personal. I found this training to be so much more than I expected.

My confidence level has increased and I'm already feeling great about conquering the world!

Wow. What a journey. I didn't know who I really was until experiencing [The Executive Presence Training].  I am now armed with the tools, knowledge and passion to transform into the person I want to be.

This course is 100% meat, no fluff and all useful.

"I could see my team transforming before my eyes. It was absolutely a fantastic experience. It is incredible."

It is the best training I have undergone thus far. Walking out more confident and more positive. Very effective techniques.

"The training was done excellently. Excellent environment."

Very insightful experience. Many tools to handle situations that arise in the workplace.
Equality
We believe in the equality of all races, genders, religions, nationalities, sexual orientations – and the empowerment of all people. Power for Everyone. 
Are you serious about promoting diversity and inclusion?  Talking about inclusion is wonderful – but talk isn't enough. Give your teams actual tools that boost equality. Our leadership presence course via Experiential eLearning is research-based. Studies show that learned power results in better executive functioning, a tendency to approach challenges – and more.
Help your leaders get the recognition they deserve.
Want leaders from traditionally underrepresented groups to succeed?  Our corporate trainings offer tools that help leaders to get seen and heard in the right way. In this way, this business training levels playing fields and shrink gaps.
Our Vision: May all beings remember their full magnificence and benevolent power. Cream of the Crop Leaders: a unique management training company offering a unique online leadership course method and modality.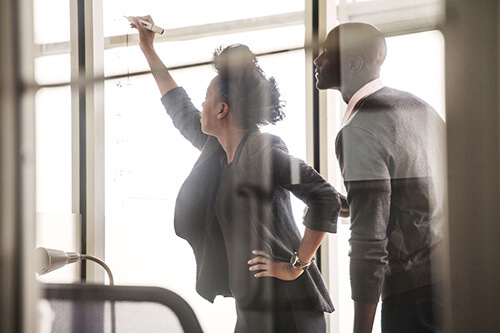 Want a truly effective online leadership course and leadership presence course?