"Simply exhilarating. Transformed who I am as a professional and as a person."

"Executive Presence doesn't even begin to cover what I learned in this course. The way I think, feel, and prepare have completed changed."

"This was hands down the best workshop I have ever been to!"

"This was a terrific workshop."

 "Excellent and transformational.  Presence is hard to define - until you feel it."

"I could see my team transforming before my eyes. It was absolutely a fantastic experience. It is incredible."

 "Amazing. The tools completely changed my outlook on life."

"Extremely powerful. Created a paradigm shift within myself."

"This was an amazing experience...life changing."

"Transformative. The only leadership workshop I've ever found truly useful and profound in moving me to the next level of leadership."

 "Lots of great material, well delivered, brought to a powerful crescendo."

"I can now take command of a room better than professionals with far more experience in my field."

"Amazing!  Great exercises.  No improvement possible."

"I cannot imagine a better program to help you grow in such a short time. Great work!!! 5 star."

"Participating in Cream of the Crop Leaders was a Seminal Moment in my life!"

"Bravo!!!  Well worth my time. Sorry I didn't know about the 3 day session."

 "I loved it!  Great opportunity.  Great experience."

"In 40 years, The Executive Presence Training is one of the top two courses I ever took."

Executive & Business Coach

Will have a lasting positive impact on my life.

I have used the tools since the session and they work!

"Great Program! I could go on and on about this program's impact on me!"

I cannot believe how transformed I feel after only two days. Opportunities to learn and find my personal 'power' were amazing.

An amazing experience.  I leave with a fresh inspiration of power and confidence. Thank you!

"Brilliant style of training. Unconventional and very, very effective. Didn't lose interest for even one minute."

"One of the most fantastic learning experiences I have ever had. Simple and effective tools."

I learned how it feels to stop being timid and step up to my own power. This will help me in all aspects of my life.

Coming into this session I was so nervous, but the way you build the material helps so much. I felt a serious breakthrough personally and I owe it to the both of you for the platform to do that.

I now own my power and can use it for good!

I expected the learning. Making new friends was an amazing bonus. I hope to cross paths with Sioux and Dan often in the future. They are both generous and inspiring.

Focuses on the best parts of a person and letting them shine.

I was skeptical coming into this training but after experiencing the difference and your sincere involvement, you have blown my expectations. I truly thank you for helping me on this journey.

This was transformational for me, a person who [already] feels confident and well put together.

I came in questioning and I left with answers. I leave with power and the knowledge and skills to summon it.

Amazing session. The best I have been to.

Excellent Transformational session. I have seen myself change over the course of two days.

It is the best training I have undergone thus far. Walking out more confident and more positive. Very effective techniques.

"The training was done excellently. Excellent environment."

Life-changing. Accomplished what I've been trying to break through for 35 years.

I really can't put into words how I feel about the genesis you helped us realize. Amazing.

Your influence has had a profound impact on my whole life.  I'm so moved I can't even write.

Saw my co-workers in new and profound ways that forged a real connection.  Helped me examine myself, the kind of career I want to have, and the person I want to become in a way that I hadn't before.

This course is 100% meat, no fluff and all useful.

Amazing.  Transformational.  Revealing.  Enlightening.  Soulful.

I broke through the wall that I built to protect myself and am now truly free to reach my potential. Thank you for being such wonderful guides.

Incredibly insightful and on point.

I didn't know I could grow so much in two days. I have a new outlook on work and a new outlook on building relationships with all of those in my life.

I love the real-world use!  Great experience!

I learned far more in this workshop than I have in any other I've participated in.  Dan + Sioux were wise and engaging…their experience is evident through their teaching.

Thrilling and engaging, it was a great 2-day seminar/workshop...that I will gladly ride again and again. I learned so much about myself and even faced one of my biggest fears.  Bravo! 

Powerful, engaging and personal. I found this training to be so much more than I expected.

Excellent!  Excellent!  Excellent!  This training definitely develops leaders.  An environment where people want to see you succeed.  An environment that allows you to recognize your nervousness and fear - then walk straight through them.

This course should be mandatory for anybody who wants to lead in any way.

I have learned more tools than I ever thought possible!  The abilities of the leaders to break things down step by step was second to none!

Very powerful and meaningful. The best leadership training I've experienced.

These tools are invaluable. THANK YOU!

This experience changed me and how I show up in the best way possible. I received so much loving support from Sioux, Dan and my fellow leaders.

This is the most beneficial class I have ever been in. Thank you!

This was an amazing growth experience – both professionally and personally.

This is the best course I've ever taken.

Will help me overcome challenges I face as an introvert.

Truly impactful and very inspirational. Dan and Sioux really bring it home and teach in a way I've never experienced.

This was an incredible experience and I got so much more out of this than I expected.

A very powerful experience!  I am eager to put all of these things into practice.

This was so valuable for me – I learned so much about myself that I can use in my personal and professional life.  You both had such a great manner about you and guided us so well.

I cannot wait to put this into practice.
Hoping for a single seat in our Power + Confidence workshops?  We get these requests a lot.
Though we no longer hold public workshops, you can bring this top-rated workshop right to your workplace or private group.
We'll come to your location, Worldwide. 

Enjoy tools to look and feel confident – despite fear or circumstance – for the rest of your life. 
Voted #1 Executive Presence Workshop, Globally (Top Leadership Partner 2017, HR.com)
Bring The Executive Presence Training (or Power + Confidence Training) to your group, club, employer, professional chapter, women's group, faith group, etc.
Learn tools to look and feel confident at a moment's notice – despite fear or circumstance.
Find out why this training consistently receives top reviews.
Each training seats up to 15 participants. Find Out More
Hugely Team Building
Quick Version:  What's The Executive Presence Workshop Really Like?
Utterly Transformational.  
Learn how to look and truly feel confident, powerful, and credible – despite fear or circumstance.
Leave with more than 12 concrete tools to radiate a confident persona anytime, anywhere
Receive personal coaching from expert facilitators to remove indicators of insecurity
Discover how to create buy-in with key decision makers
Learned confidence can become authentic
Small Group Format: Only 15 participants
For everyone, including top leaders and generally confident people. Everyone benefits from polishing their 'this-is-me' message.
Invest in Yourself:  After all, you bring yourself everywhere you go.
Participants report:
Power and confidence hugely boosted
Simple, real tools to apply to everyday professional and personal challenges
Increase in credibility + and the ability to create buy-in
Greater likelihood of approaching rather than avoiding the challenges that create success, solid relationships and joy.
Improved morale and mood
Available Worldwide 
Our instructors' clients include leaders from these organizations, and more.
Benefits – In the Executive Presence Workshop, participants learn tools to:
Radiate a confident, powerful presence wherever you go, and with everyone you meet
Create credibility and trust with everyone, including key stakeholders, team members – and personal acquaintances
Know how to look and feel impressive with decision makers – despite fear or circumstance
Develop warm rapport with ease
Benefit from Video Feedback Training 
Receive customized feedback from the facilitators to ensure that you radiate a confident executive presence
Learn how to approach rather avoid challenges
Role model executive leadership within your organization
View Workshop Methods | Participant Reviews
Learning Through Doing is our Instructional Credo.  Because our teaching methods are so interactive, they can create muscle memory for cumulative, lifelong benefits.
90 Doing/10 Didactic:   Highly-focused instruction is given only briefly (about 10% of each hour) followed immediately by active application (about 90% of each hour).  Learning through Doing is our instructional credo.  Our Leadership Training Workshop participants are intellectually stimulated, emotionally engaged and genuinely invested in being their truest, biggest selves.
Teaching tools and techniques, all designed to keep our corporate training participants actively engaged, include: Dyad exercises (working with one other person), Video Feedback (film and group review of how one presents themselves), small group exploration, multimedia presentations, instructor feedback, giving and receiving peer feedback, large group sharing and discussion, and real-world application exercises.  Our Leadership Development Workshop will be unlike any training you've ever experienced.
View Workshop Benefits | Participant Reviews
Equality and empowerment of all beings are our #1 company priorities.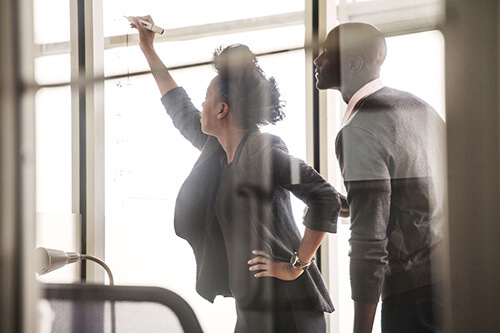 We believe in the equality of all races, genders, religions, nationalities, sexual orientations – and the empowerment of all people.  Power for Everyone.
Research suggests that some of the tools we teach can boost ones' chances of being selected in desired high-stakes situations.  This means that our tools can level playing fields and shrink gaps.
Are you serious about diversity and inclusion?  Talking about inclusion is truly good – but talk isn't enough. Give your team real tools that can help them level playing fields and shrink gaps. Everyone deserves to benefit from the best transformational leadership trainings.
Our Vision:  May all beings remember their full magnificence and benevolent power.
Complimentary CEUs for HR Leaders (SHRM + HRCI).
Onsite Executive Presence Training for Your Group

Workplaces | Professional Chapters | Private Groups | Friends
Confident. Powerful. Believable.
Ready to look and feel powerful, confident and credible?
The Executive Presence Workshop - Executive Confidence for a Confident You,